About Tour de Pier
About Tour de Pier
Jon Hirshberg, who started the first LA Cancer Challenge after the loss of his father Ron in 1997, came across the idea of doing a spin bike fundraiser after learning about an event that raised over $3 million in one day at cycling studios across the country. Jon approached his friend and long-time cycling enthusiast, Heath Gregory, about the idea of putting on a one-day event in their hometown of Manhattan Beach, CA. Coincidentally, Heath had participated in a similar event in Barcelona during the 2009 Tour de France and vividly remembered the spectacle of hundreds of riders moving in unison all for a common cause. His response was, "I'm all in." Jon shared the initial idea with Lisa Manheim, and with the Foundation on board to produce the event plus a team of board members eager to participate, planning for the Tour de Pier began.
After months of preparation, the Inaugural Tour de Pier was held in May 2013 at the iconic Manhattan Beach Pier and raised over $339,000 for our charities. Within three days of the event, the City of Manhattan Beach granted approval for the following year. In its second year with a goal of $500,000, the event raised more than $540,000. In its third year, with a goal of $750,000, more than $912,000 was raised. In our 4th year, we set our sights on hitting $1 million mark and surpassed that milestone. We repeated this again in years five and six when we raised over $1.3 million each year. Since 2013, Tour de Pier has raised more than $5.6 million for cancer charities.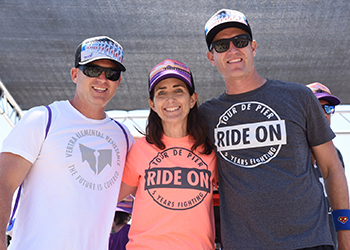 Co-Founders:
Jon Hirshberg (left), Lisa Manheim (middle) and Heath Gregory (right).