LA Cancer Challenge Teams are at the heart of LACC. Families celebrating survivors and honoring the memory of a loved one is what makes this event so special. Help raise awareness and fund research by creating an LACC team for family and friends, employees and colleagues or a team for your school!
A team is made up of 5 or more members
Great for families and friends, schools, businesses, organizations and community groups
Teams can be formed to celebrate a survivor, honor a loved one, encourage health and fitness and more
Every team has a team page where you can share your story and fundraise as a group.
Corporate Teams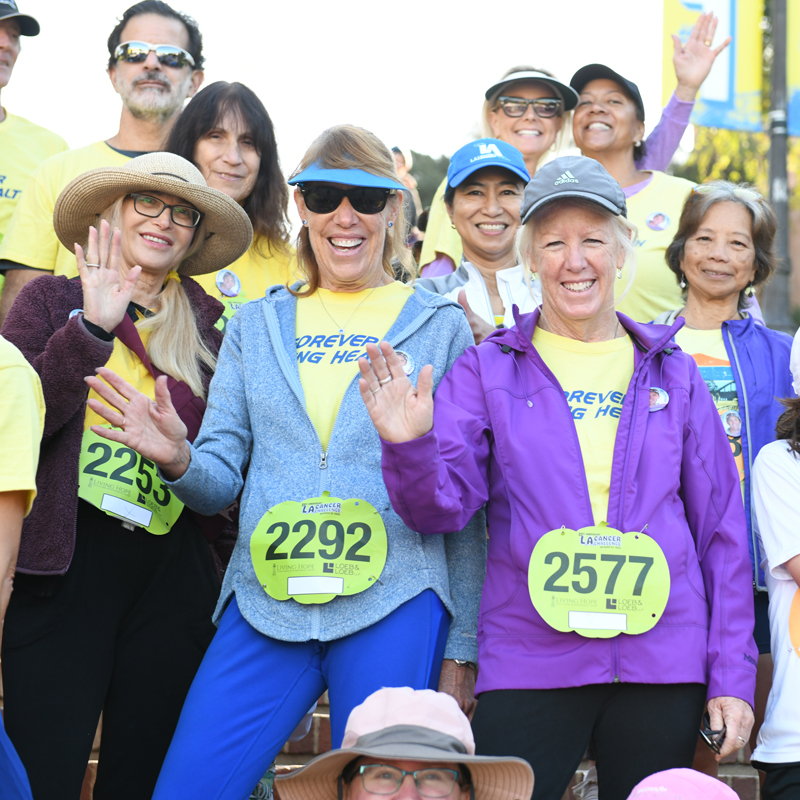 Boost team spirit amongst employees, encourage workplace giving and inspire your community by starting a company team! Corporate Teams are a great way for your business to get their name out there, reach our audience of supporters and show off your philanthropic side. You'll get a Team Page where you can add your logo, company description and fundraising goal. We'll provide the tools to make it easy for everyone to become champions for a cure!
To help get your team started and ensure it's a success, we can provide:
A Team discount code for groups of 10 or more
Team Flyers to place in your office, break room, or lobby
A Team Tent for top fundraising teams
Bonus: Sponsorship opportunities for brand exposure and cause marketing
Plus, all corporate team members are eligible for all the great fundraising prizes and winners awards that LACC has to offer.
For more information and to start a Corporate team, email Sarah Banks.
Student Teams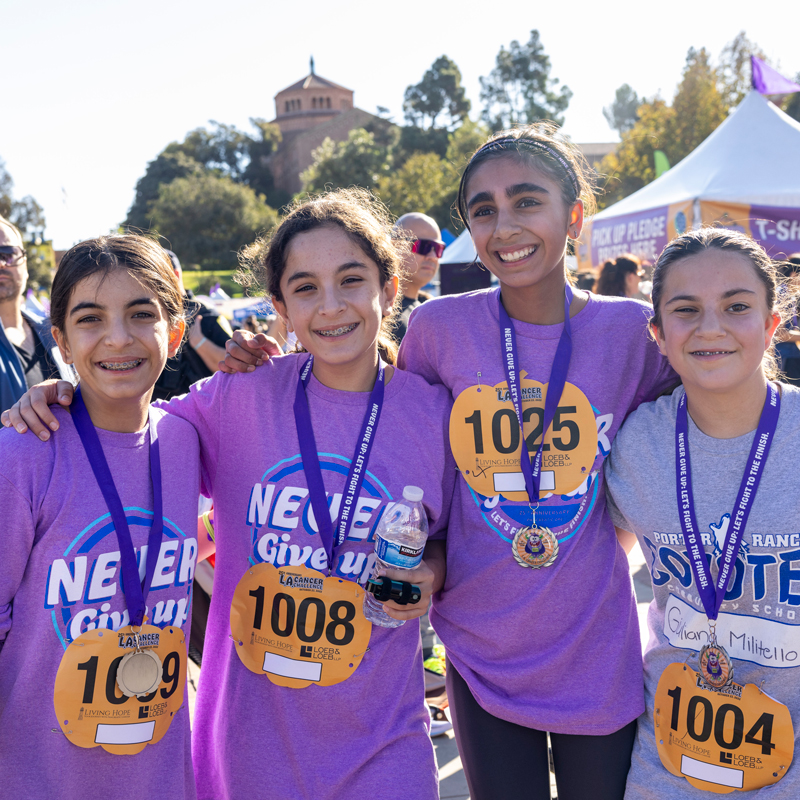 Student teams encourage fitness, fun and add spirit to the LACC experience for our younger crowd! Students or schools can honor someone special, train for a race, or simply enjoy LACC activities together.
Team Flyers to share at school
A Team Tent for top fundraising teams
Walk/Run the 5K and volunteer to earn hours
For more information and to start a Student team, email Elissa Oblath.
Team Contests & Incentives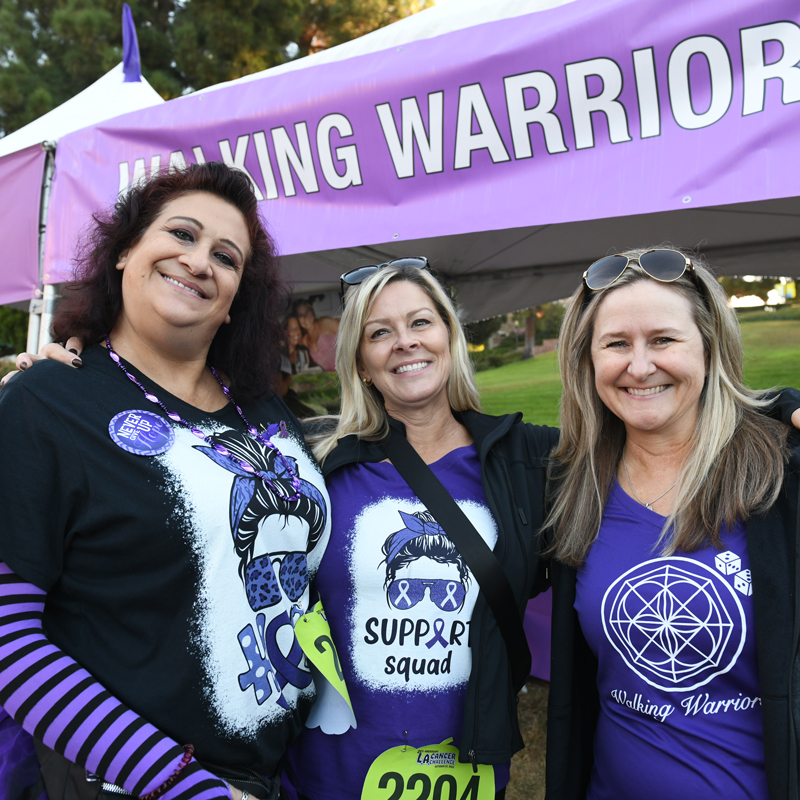 Team Tent in Expo:
The Top 10 fundraising teams* will receive a complimentary Team Tent in the Fit Family Expo with a custom vinyl banner with your team name on it! The Top Fundraising Team & The Largest Team will receive a VIP-sized tent with custom banner, premium location and 1 parking space. Team Tents are a special space reserved inside the Fit Family Expo to thank you for all your hard work.
*Winning teams are based on online fundraising statistics through Sunday, October 8, 2023. Winning teams will be notified on Monday, October 9, 2023. Team tents are non-transferable. View Past Winners ➤
Team Name on Start Banner:
Any team that fundraises $2500 or more by Sunday, October 8, 2023 will have their team name added to our Start Line Banner.
Fastest Team Contest:
We award plaques to the fastest 3 teams in the 5K. Team scores are based on the fastest combined times of the top 5 finishers per team. Good luck!
Plus, all team members are eligible to earn individual fundraising incentives and winners awards!
Team Spirit
Did you know that there are many fun and exciting ways to show off your team's spirit at this year's LA Cancer Challenge? Below are a couple fun ideas you can utilize to spruce up the look of your team or family.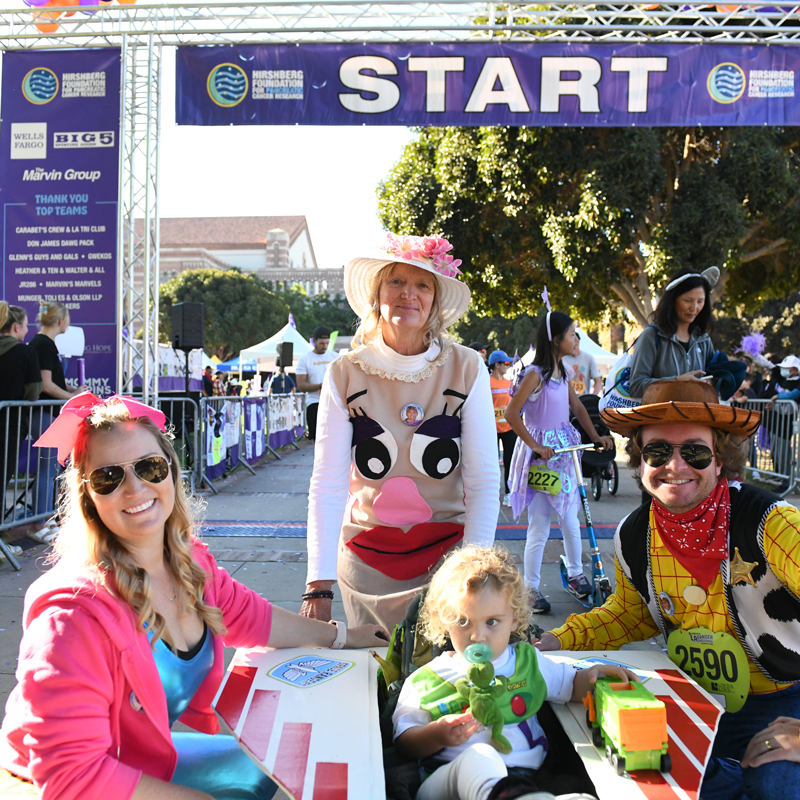 Wear Costumes
Unite your team with a fun Halloween Costume. Show off your most thrilling, fantastical, or dazzling costumes and enter the LACC Costume Contest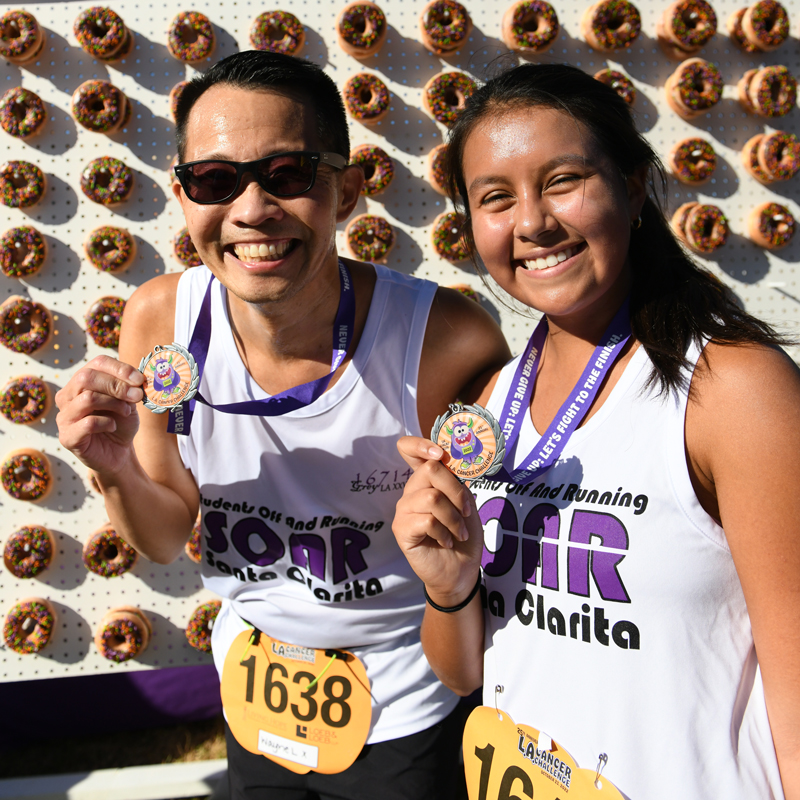 Team T-shirts
We've partnered with Bonfire to bring super soft, custom designed team t-shirts to all! Start with one of our templates or get creative and design your own. Share with your community and proceeds from every shirt sold will go towards your fundraising.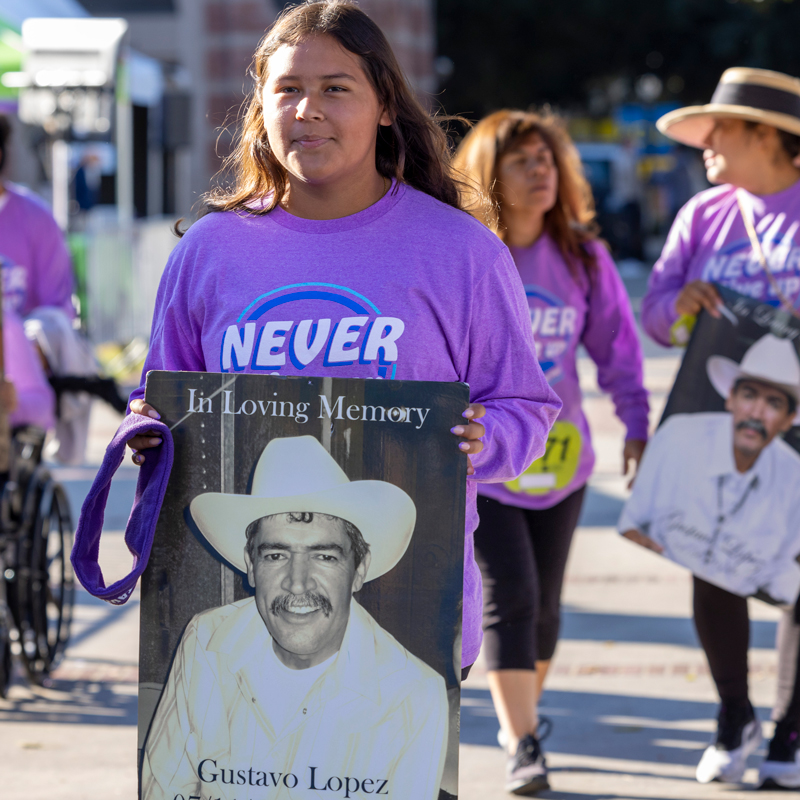 Team Signage
Grab some poster board or fabric and get creative or have a banner printed. Include a photo, your team name and a special message to honor your loved one.
Honoring a Loved One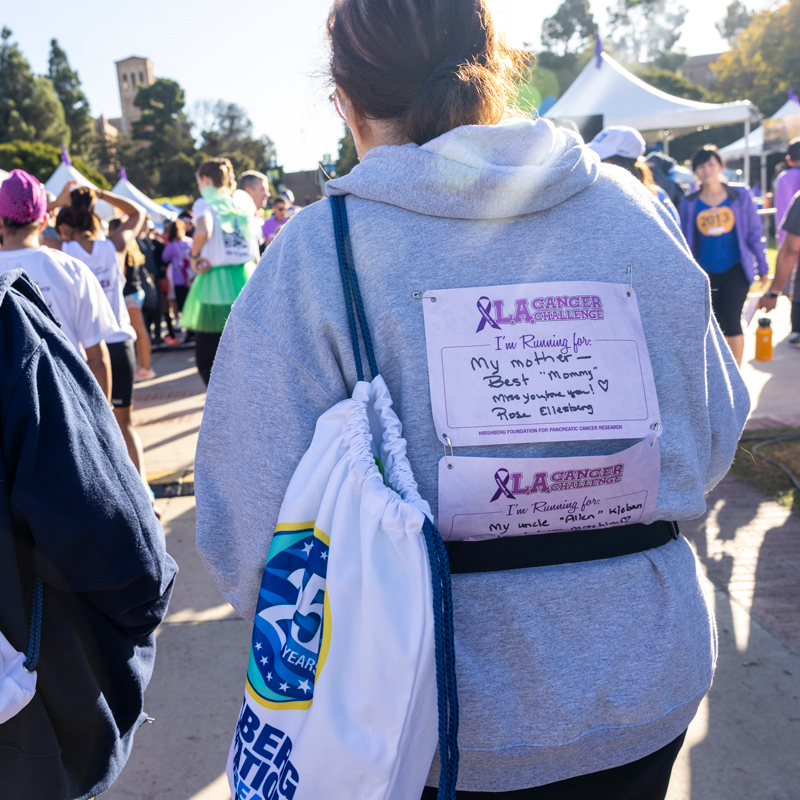 Wear a Tribute Bib
Visit the Hirshberg Foundation Booth on race morning to fill out a complimentary purple tribute bib to be worn in memory or support of loved ones.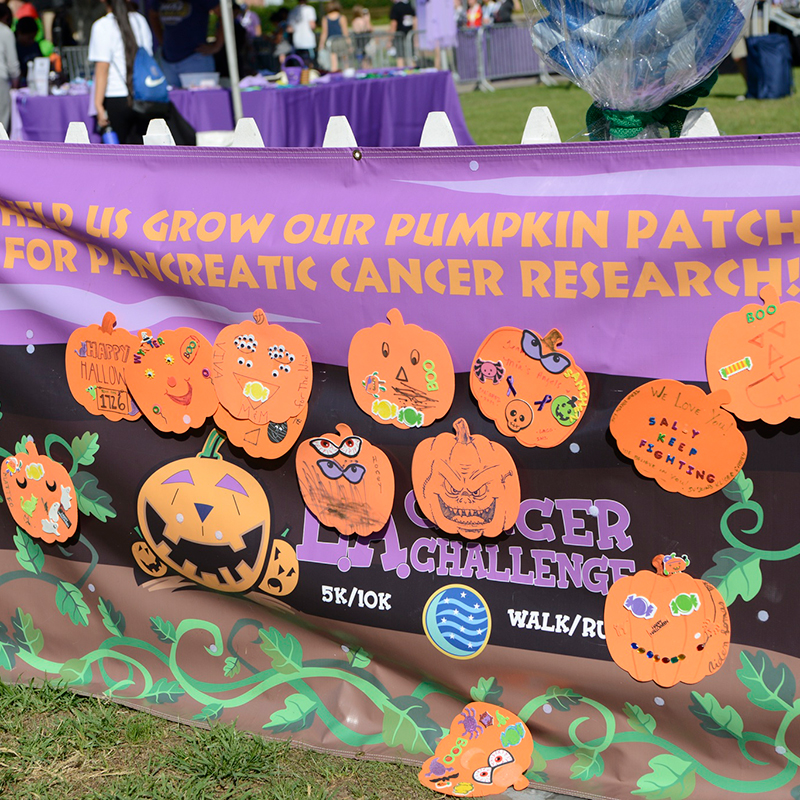 Kids Can Cure Banner
We provide the pumpkins, markers, and purple ribbons, so all the kids have to do is use their imagination to create a special momento representing their love for the LA Cancer Challenge!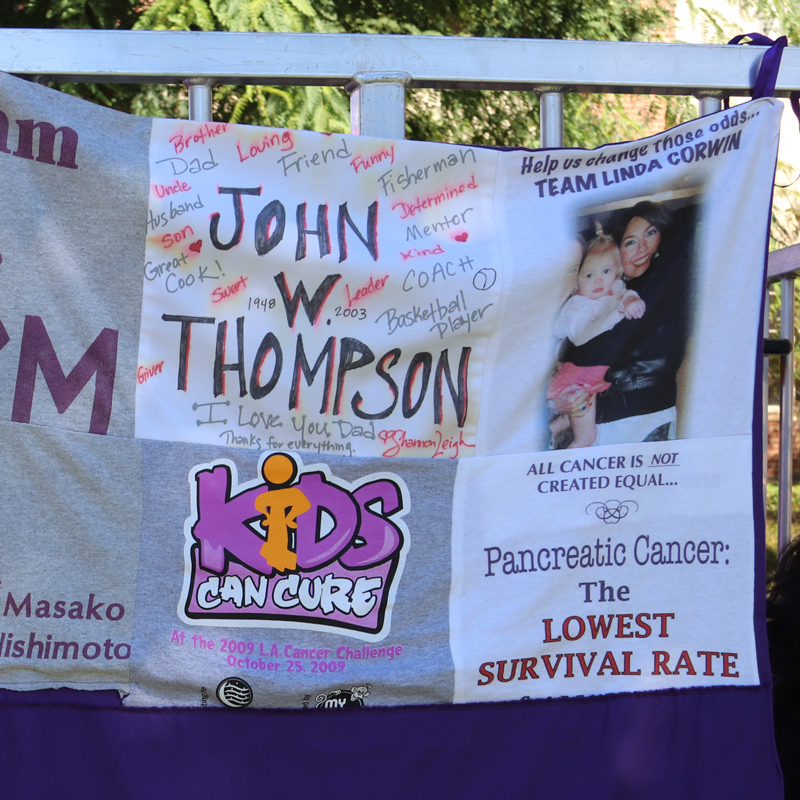 Memory Banner
Create a square for Memory Banner. Squares will be sewn together into a banner that is displayed in the Expo. New squares are added each year.
Specifications for our Quilted Memory Banner
Decorate any 13 inch x 13 inch piece of fabric (cotton, cotton blend or woven cotton only please)
Leave a 1 inch border around all sides that is free of all decoration (decorated area is 12 inch x 12 inch)
You can iron-on a photo, draw a picture, decorate with stencils, buttons, fabric paints, etc.
Mail square to us: 2990 S. Sepulveda Blvd, Suite 300C, Los Angeles, CA 90064 by October 2nd.
*Aren't crafty? Give us your Team T-Shirt and we will add it to our quilt!