EVENT TIPS
Host an event for your supporters and take the opportunity to interact with your community. Here are some event tips to help you make your next fundraising event an extraordinary one.
Plan as if you are a guest
When planning your event, examine it during the planning stages from the perspective of a guest and not as the organizer. This includes meal selection, items for your Live and Silent action (if applicable), as well as presentation length.
Auction items that "wow" the crowd
As with any fundraising event, your guests will bid on items or trips that will excite them. Local donations are fantastic but larger more exciting items, such as "No Risk Auction Items," are needed to urge on higher bids.
Provide entertainment
While entertainment options seem like they cut into your event's net proceeds, they can be productive investments. Background music provided by live bands can break up the time, as well as fill dead space. Furthermore, an entertaining Master of Ceremonies is a very valuable asset. Your guests will enjoy someone who is not afraid of speaking in front of crowd and can create excitement.
Volunteers to back you up
Ensure your registration table is adequately staffed to prevent your guests from having to stand in line when they arrive. As guests are leaving, ensure again that your check-out table is staffed so that your guests can pay for the items they purchased quickly. Make sure your staff understands their duties and that there are staff members assisting your guests in retrieving their items.
Donations are just as important as attendance
Offer multiple ways to donate. Without the seats full, you will be unable to raise the funds you need. Diversify the ways that you solicit donations, such as holding a Live and Silent Auction, or holding a Raffle.
Photos Are Priceless
Creating a fundraising event is an exciting journey for every host; however the day of the event is an incredibly special experience for everyone in attendance. Photos are not only fun to share with guests, they're also great for promoting your event next year! If you're unable to retain the free services of a professional photographer make sure to either use a quality camera or save your original photos in hi res (without filters) on your smart phone or other device.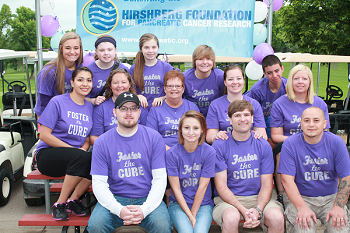 When the Foster family came together to host their 1st Foster the CURE Golf Tournament in Sioux City, Iowa we asked them to share their advice and how they made planning decisions.