Schedule
7:30 am
Registration Opens
Walk-up registration and packet pick-up
7:30 am
Fit Family Expo & Candyland Kids Zone Opens
Enjoy music, entertainment, Halloween festivities and health & fitness booths for all ages in the Fit Family Expo. Our whimsical Candyland Kids Zone includes larger than life candy décor and fun activities.
8:00 am
Opening Ceremonies Begin
9:30 am
Fit Family Expo & Candyland Kids Zone Continues
10:15 am
Kids Costume Parade & Adult Costume Contest
10:45 am
Raffle Prizes & Silent Auction
Packet Pickup
If you would like to save time on race morning, stop by our LACC Packet Pick-up to collect your t-shirt and running bib before event day.
Saturday, October 30, 2021
11 am - 3 pm

Big 5 Sporting Goods
3121 Wilshire Blvd, Santa Monica, CA 90403
If you cannot make it to Packet Pick Up, that's ok too. Simply arrive with ample time on race morning and proceed to the Pre-Registration Area.
Virtual Participants: Packet Pick Up info for Virtual Participants is here.
Location - Course Map - Parking
Event Location
U.C.L.A.'s Wilson Plaza
120 Westwood Plaza
Los Angeles, CA 90095
Course Map
Getting Here
Northbound (from the South Bay): Take Interstate 405 (San Diego Freeway) north, and exit at Sunset Blvd. Turn right on Sunset. Turn right onto Westwood Plaza and , and proceed down to the Structure 4 entrance.
Southbound (from the Valley): Take Interstate 405 (San Diego Freeway) south, and exit at Sunset Boulevard. Turn left at the end of the off-ramp and turn east (left) onto Sunset. Turn south (right) onto Westwood Plaza, and proceed down to the Structure 4 entrance.
Parking
Parking is available in Lot 4. Cost is $14 per car. To save time on event morning, download the ParkMobile app to your mobile device, add your vehicle's license plate and a credit card for payment. On event morning, pay for your parking via the app. View the instructions here. You can also pay for parking using a credit card at the parking lot Pay Stations.
Parking details for Volunteers, Sponsors and Exhibitors will be emailed prior to the event.
Honorary Medical Chair
The LACC Honorary Medical Chair position is awarded to a professional whose exemplary work in pancreatic cancer has benefited both medical and patient communities.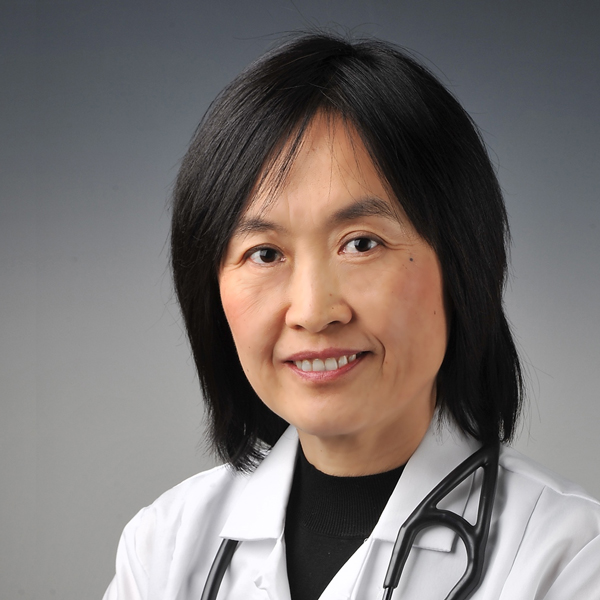 Dr. Zhaoping Li - LACC Honorary Medical Chair 2021
Zhaoping Li, MD, is a Professor of Medicine and the Director of the UCLA Center for Human Nutrition. A 2016 Hirshberg Seed Grant Awardee, Dr. Li has twice been a Symposium guest speaker, has hosted a hands-on Cooking healthy class for patients and led the first webinar for our new series launched during the 2020 pandemic. Her nutrition expertise and exceptional commitment to wellness have been instrumental in helping patients balance the complexities of their diet and quality of life during and after treatment. Learn more about Dr. Li.
Honorary Starter
The LACC Honorary Starter is a special honor we bestow each year on a pancreatic cancer survivor who has shown great courage, strength and positivity throughout their cancer journey.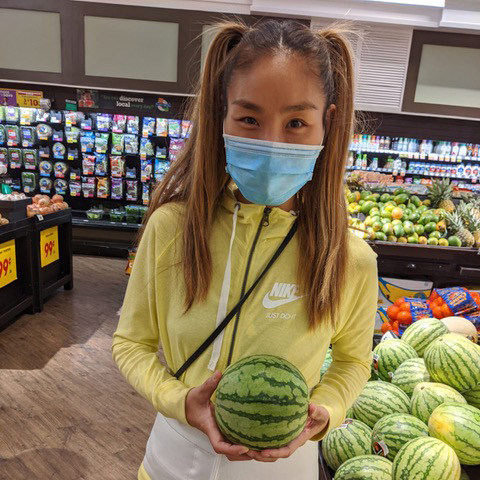 Esther Lee LACC Honorary Starter 2021
Esther is a source of joy and inspiration to everyone she meets. Diagnosed in July 2020 with stage IV pancreatic neuroendocrine tumor with metastasis, Esther faced a long and bumpy treatment journey that she is still on. Through it all she exemplifies grace and expresses gratitude every step of the way. She has the amazing support of her family, friends and her medical team at UCLA rallying for her. In Esther's own word, "I've truly learned to take it one day at a time, the greatest challenge being fully present in each day, moment by moment… this is the amazing place of peace and gratitude." Read Esther's story
Special Guest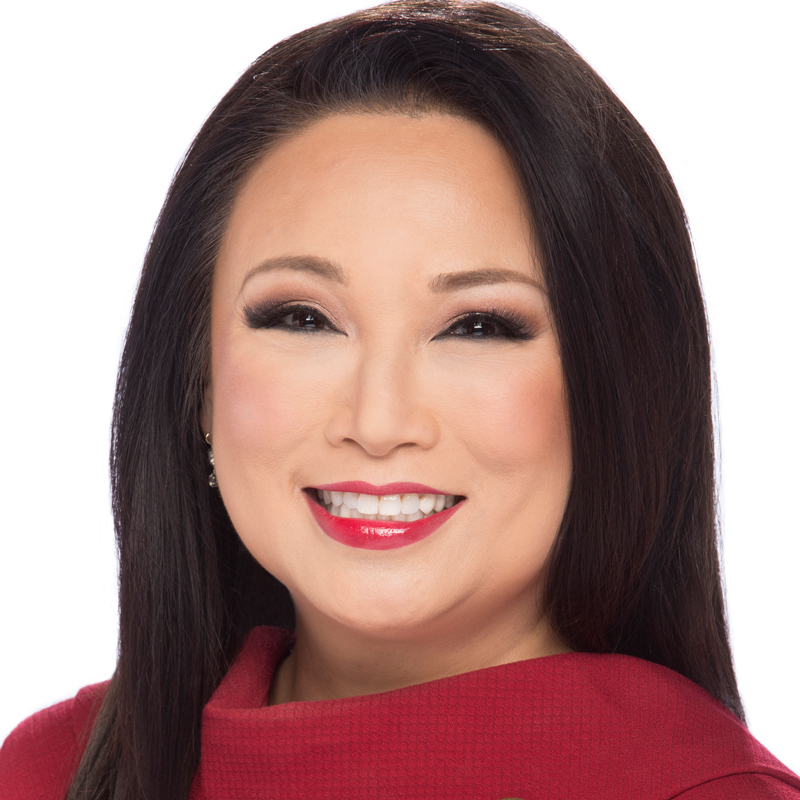 Denise Dador
Denise Dador is the Eyewitness News Health Specialist whose "Circle of Health" reports can be seen on ABC7 Eyewitness News at 3 p.m., 4 p.m. and 5 p.m.
Since joining ABC7 in 1998, Denise's mission has been to help Southern Californians improve their lives with timely medical information and advice. Through her reports, L.A's top medical experts become accessible and relatable. Throughout the coronavirus pandemic, her stories played a pivotal role in helping Angelenos navigate their changing world. Besides volunteering to help groups that fund medical research and patient care, Denise also represents KABC in her work with various Asian Pacific Islander and Filipino- American community organizations.
Denise grew up in San Francisco. She attended Long Island University in Brooklyn and graduated from Mills College with a degree in communication. At WXYZ-TV in Detroit, she anchored the weekend news and hosted a weekly talk show. At KMPH in Fresno, she was the main anchor of their 10pm news.
Denise has received numerous journalism and community service awards including national recognition for her work with Asians for Miracle Marrow Matches. She received Emmy awards for News Feature Reporting and Outstanding Children's Programming.
Outside of work, Denise is a wife and mother of a teen-aged son and daughter who both have big dreams. While she would like to say she is an avid runner or skier, streaming historical documentaries and period dramas has become her latest obsession.
Candy Land Kids Zone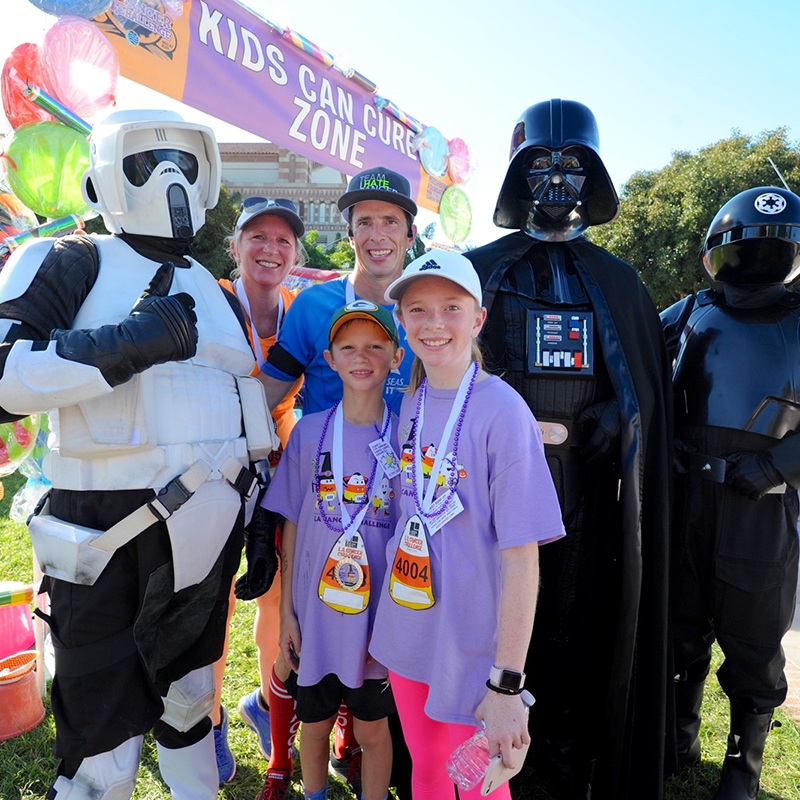 The Candy Land Kids Zone is a magical experience for children of all ages who enjoy participating in the LA Cancer Challenge. Decorated with giant life-sized lollipops, chocolate kisses and gum drops, this whimsical play space includes Halloween crafts, face painting, bounce houses and snacks for kids and parents. Children are also invited to show off their Halloween Costumes early and take a photo in front of our giant lollipop display. The Candy Land Kids Zone is a fun and interactive Halloween playground where kids can get an early start celebrating this fun holiday.
Kids Costume Parade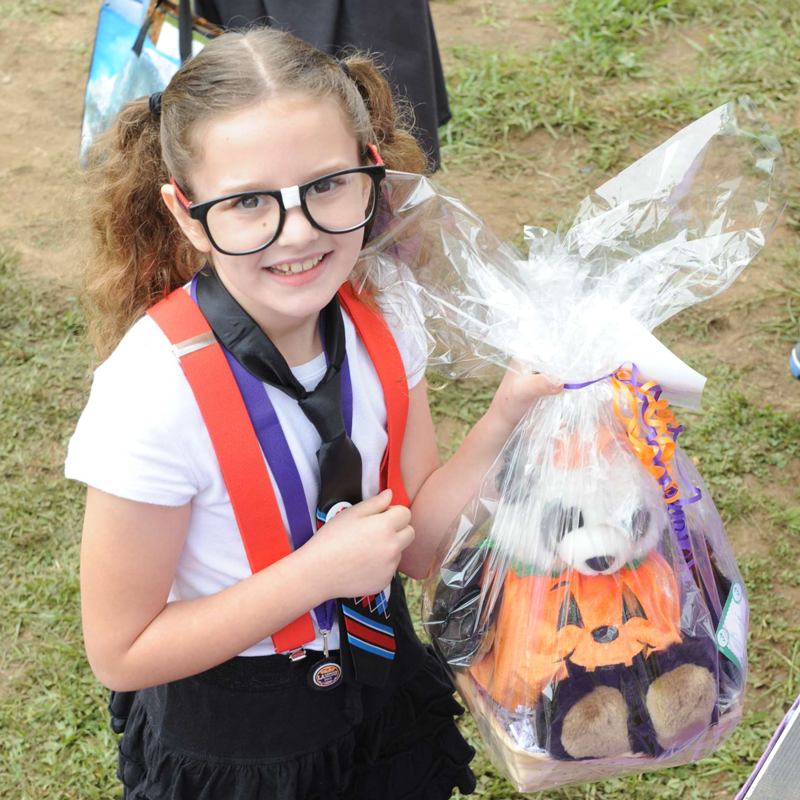 Bring your little ones or big kids (ages 2-11 years) to participate in our LACC costume parade! They'll enjoy a moment in the spotlight and get to show off their creative Halloween attire. Meet us at the main stage at 10:15 am, after the 5K walk and a trip by the trick-or-treat wall!
Costume Contest (ages 12+)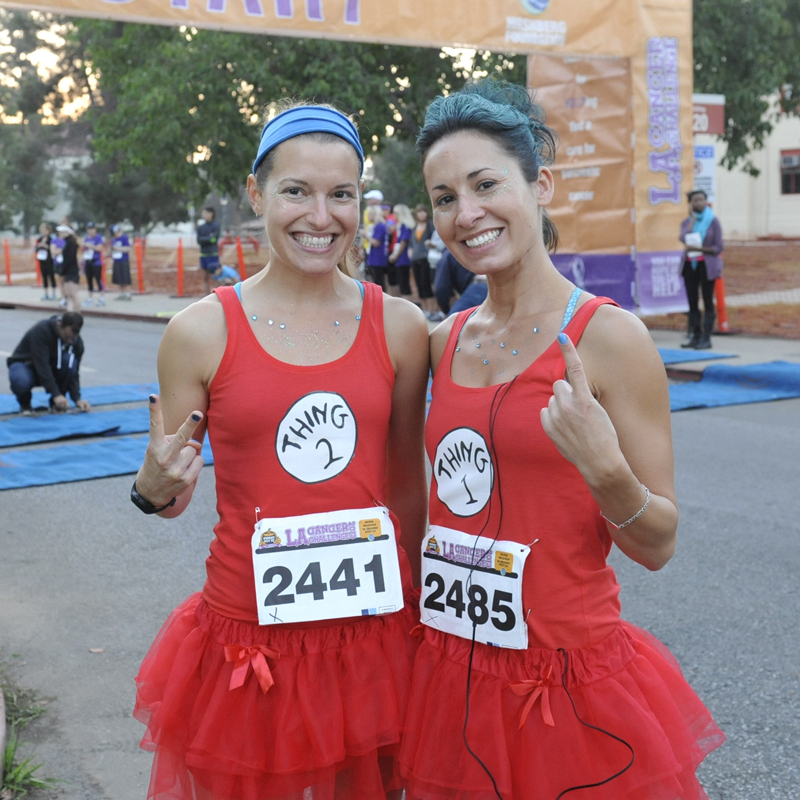 Show off your most thrilling, fantastical, or dazzling costume and enter the LACC Costume Contest! Join us at the main stage at 10:30 am in costume where our LACC audience will be the judges. Prizes will be awarded on event day for the best group costume and 1st, 2nd, and 3rd place individual costumes.
Winner's Awards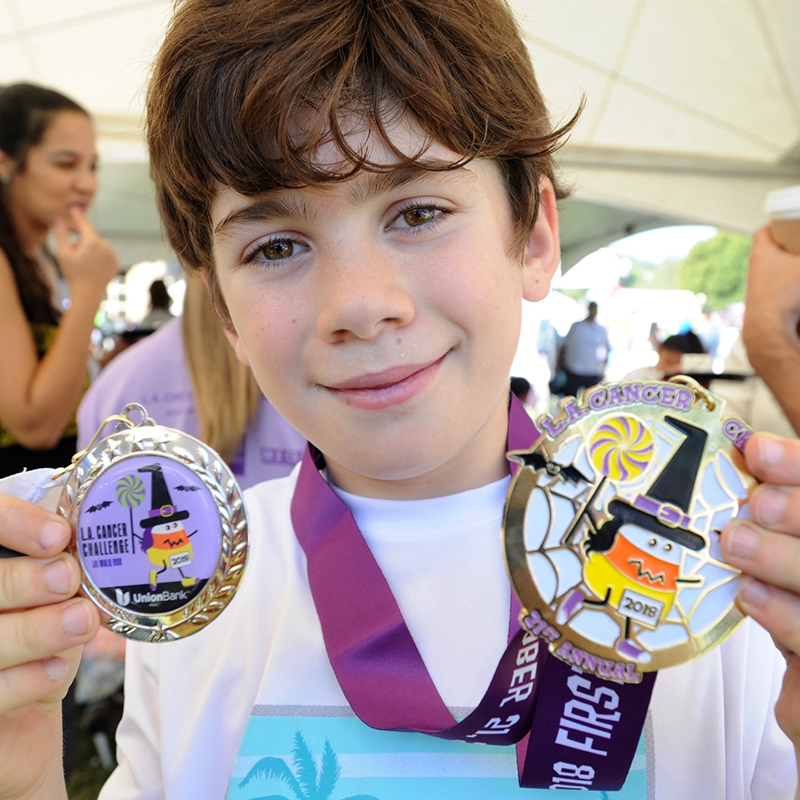 Age Divisions
7-under, 8-10, 11-14, 15-19, 20-24, 25-29, 30-34, 35-39, 40-44, 45-49, 50-54, 55-59, 60-64, 65-69, 70-74, 75+
Custom Winners Medals will be awarded to the 1st, 2nd, and 3rd place finishers in each age category for the 5K. In addition to our medals, overall 1st - 3rd place male & female winners for the 5K will receive prizes.
5K Awards
1st Place Male & Female = $50 Big 5 Sporting Goods Gift Card
2nd Place Male & Female = $35 Big 5 Sporting Goods Gift Card
3rd Place Male & Female = $25 Big 5 Sporting Goods Gift Card
Team Awards
In addition to the individual running awards, we also award plaques to the fastest 3 teams in the 5K. Team scores are based on the fastest combined time of the top 5 finishers per team. There are additional team contests for fundraising.
Race Results