Event Details
Event Details
The 5th Annual Tour de Pier is a unique fundraising event that brings one of the hottest indoor fitness activities - stationary cycling - to the gorgeous outdoors of Manhattan Beach. Ride in place with an ocean view!
The Ride:
Stationary bikes on The Strand overlooking the Manhattan Beach Pier. You can register for a five hour session and can either share the bike with team members or ride individually. The South Bay's best instructors and celebrity guests will spin you through a session with energizing music and loads of excitement and energy.
2017 Tour De Pier Schedule:
| | |
| --- | --- |
| 7:30 am | Check-in begins |
| 8:15 - 8:30 am | Opening Ceremonies |
| 8:30 - 9:20 am | Ride Session 1 "Congregation" - Michael Stadvec |
| 9:30 - 10:20 am | Ride Session 2 "Rally" - Angela Bennett |
| 10:30 - 11:20 am | Ride Session 3 "Pulse" - Lisa Austin |
| 11:30 - 12:20 pm | Ride Session 4 "Harmony" - Chrissy Roth |
| 12:30 - 1:20 pm | Ride Session 5 "Revelry" - PK Kessel |
| 1:20 - 1:30 pm | Awards & Closing Ceremonies |
Health & Fitness Expo:
In addition to the cycling portion of the Tour de Pier, our event includes a free Health & Fitness Expo, with ongoing music and entertainment, sampling of healthy food and beverages, as well as interactive health & fitness booths. Little ones can enjoy our Cardio Kids Zone with tot-sized stationary bikes, games, moon bounces and more. Learn more about becoming an exhibitor.
Location:
The iconic Manhattan Beach Pier & Strand is located at:
2 Manhattan Beach Blvd
Manhattan Beach, CA 90266
Uber, Lyft & Taxis:
If you choose to come via taxi, Uber or Lyft, Manhattan Beach Police require that you get dropped off at the northeast corner of Valley Drive & Manhattan Beach Blvd in Manhattan Beach, CA 90266. Walk down Manhattan Beach Blvd towards the ocean and you will find our event. Drivers attempting to drop off passengers closer to our event maybe ticketed by police.
Parking:
General Parking: In addition to metered street parking, there are many public parking lots in the Downtown Manhattan Beach area. Metlox Plaza also has ample parking in an underground garage off of Morningside Drive. Most parking spaces have two-hour metered parking from 9 am to 8 pm seven days a week. You must move your car after your metered time is up. Parking enforcement officers will chalk your tires and issue tickets if you exceed the maximum parking time. Meter prices range from $0.50 an hour to $1.00 an hour. Be sure to read all posted signs and bring lots of change for the meters. Or better yet, ride your bike or skateboard to the event and leave your ride with the complimentary bike valet. Check the parking lot link on the City of Manhattan Beach website for more information.
Volunteer Parking / Drop Off:
Information will be emailed in advance of the event.
Bike Valet:
Leave your strollers and bikes in our complimentary Bike Valet adjacent to the Expo. The Bike Valet will open at 8:00 am and all bikes need to be claimed by 2:00 p.m. Special thanks to the Kiwanis Club for hosting the Bike Valet!
Ride Themes: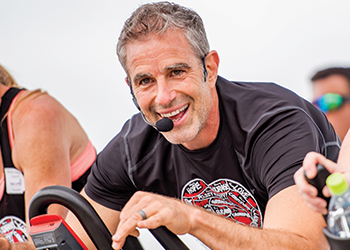 Hour 1: "Congregation"
Michael Stadvec
We will honor the powerful intersection of the Battlers, the Supporters, the Warriors and the Givers. It takes all of us, gathering together with our hearts, heads and energy, to move the needle in the fight. Our power is our Congregation.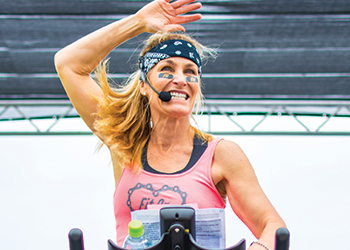 Hour 2: "Rally"
Angela Bennett
With high energy and upbeat spirit, we will come together as one to "Rally" in the fight against cancer.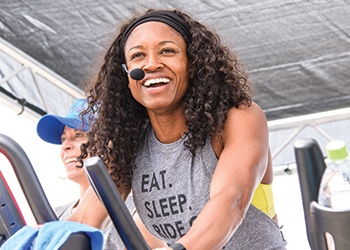 Hour 3: "Pulse"
Lisa Austin
At the heart of our fight is the "Pulse" that keeps us going. Our community vibration, our sound, and our healing waves will beat strong.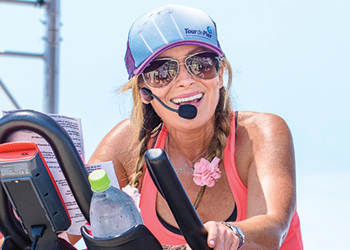 Hour 4: "Harmony"
Chrissy Roth
Our simultaneous actions and "notes" will strike a harmony that will be heard throughout the South Bay. Side by side we will celebrate our collective spirit and unity.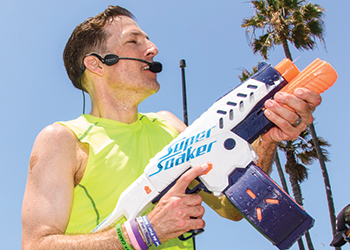 Hour 5: "Revelry"
PK Kessel
It's time to get wild in celebration of the 5th hour of the 5th Tour de Pier. As the culmination of the hard work of our entire TdP community, we will pedal, dance and party as we cheer on all those affected by cancer and all those who have come together to make a difference.