Event Schedule - Sunday October 30
| | |
| --- | --- |
| 6:00 am | Registration Opens |
| 6:50 am | 10K Warm Ups |
| 7:00 am | Fit Family Expo Opens |
| 7:00 am | 10K Start |
| 8:10 am | 5K Warm Ups |
| 8:30 am | 5K Start |
| 10:00 am | Kids Can Cure Run & Costume Parade |
| 10:15 am | Adult Costume Contest & Awards |
Packet Pick Up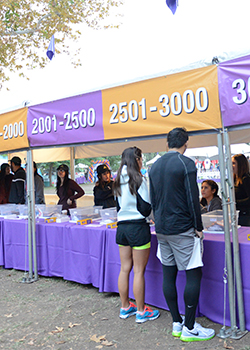 If you would like to save time on race morning, you can come pick up your running bib, timing chip, t-shirt and gift bag at Packet Pick Up.
Saturday, October 29 at Big 5 Sporting Goods, located at 3121 Wilshire Blvd, Santa Monica, CA 90403 from 11 a.m. 3 p.m.
If you cannot make it to Packet Pick Up, that's ok too! Simply arrive with ample time on race morning and proceed to the Pre-Registration Area.
Fit Family Expo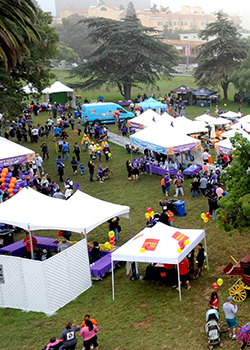 The LA Cancer Challenge is a great way to start celebrating Halloween and there is fun for the whole family.
Our giant Fit Family Expo has ongoing music and entertainment, food and beverage, as well as health and fitness booths.
Dress in costume and enter our Costume Contest. Prizes will be awarded in various categories including Best Adult, Best Team and Best Volunteer. Please dress in full spirit of Halloween, but remember, this is a family event! NOTE: You do not need to RUN in your Halloween costume. There will be a complimentary gear check area to store your belongings while you race.
Kids Can Cure Fun Run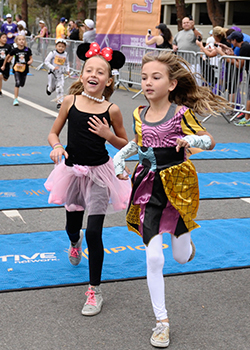 Our Kids Can Cure Fun Run is a perfect opportunity for children ages 2 to 7 years old to participate in the LACC. We allow our littlest runners (2-4 years) to go first, followed by 5-7 year olds. Kids will follow "The Bee" around the Expo and participate in our Children's Costume Parade.
Our Fit Family Expo includes a Halloween Kids Zone with a bounce house, pumpkin arts and crafts, snacks and much more. We encourage you to get the little ones passionate about charity now. Sign up for the Kids Can Cure Fun Run and help us Run Pancreatic Cancer Out of Town!
Special Guests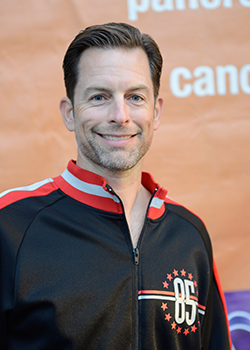 Michael Muhney
Michael Muhney is well known for being an accomplished Hollywood actor as well as being a generous humanitarian. Michael has been running the 5K and 10K events with LACC since 2005. He has been formally involved with the LACC since 2007 in various capacities including host, emcee and now honorary chairperson. His commitment to finding a cure derives from the loss of his uncle who passed away from pancreatic cancer in 2006.
Muhney has starred in daytime's #1 soap opera as well as being a series regular in several television series such as "Veronica Mars," "Turks" and "The Huntress." His numerous television guest starring roles include "Without a Trace," "Numb3rs," "ER," "Charmed," "NCIS," "Boomtown" and "CSI: Miami." He has also starred in the mini-series, "A Will of Their Own."
Muhney's film credits include "The Track", "Search Engines," "Back to Christmas," "Columbus Day," "Reeker: No Man's Land," "Lovers, Liars and Lunatics," "Act Your Age" (which he also co-wrote and produced), "Virtual Nightmare," "Disconnect," "Love 101," and the award-winning independent feature at the DigiDance Film Festival, "Nicolas."
Born in Chicago, Muhney moved to Texas at age eight where he resided until heading back to Chicago for college. He received a bachelor's degree from the Goodman School of Drama at DePaul University.
In his free time, Muhney enjoys cycling, rock climbing, ultimate frisbee, golf, and soccer. He is an active participant in pancreatic cancer charity foundations. He currently resides in Los Angeles with his wife, Jaime, and his three children, Dylan, Ella and Truman. You can follow Michael on twitter: @michaelmuhney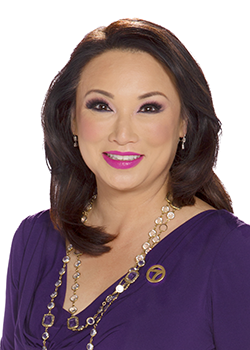 Denise Dador
Denise Dador is the Eyewitness News Health specialist. Her Healthy Living reports can be seen on ABC7 Eyewitness News at 3 p.m. and 4 p.m. She also provides additional stories about health issues for other Eyewitness News broadcasts, as well as anchoring ABC7 health specials.
Since joining ABC7 in 1998, Denise has also covered breaking news including the February 2001 Seattle earthquake, as well as an exclusive interview with Philippines President Gloria Macapagal Arroyo regarding terrorist activities in that country. Recently she covered the mass shootings in San Bernardino and UCLA.
Denise grew up in San Francisco and attended Lowell High School. She graduated from Mills College, where she majored in communication with a minor in comparative government.
In 1990, Denise took a position at Fox's KMPH in Fresno, California. Initially a general assignment reporter, Denise was appointed South Valley bureau chief and eventually became the main anchor of the station's nightly news. In 1993 she joined ABC affiliate WXYZ in Detroit, where she served as a health reporter, weekend anchor, and host of a weekly news program called "Healthy Living Live."
Denise has received numerous journalism and community service awards including national recognition for her work with Asians for Miracle Marrow Matches. She received Emmy awards for Outstanding Children's Programming and for News Feature Reporting. She was also awarded Best News Feature from the Michigan Association of Broadcasters, as well as the Outstanding Health Reporting award from the Southern Christian Leadership Conference. Denise received the Profiles in Progress award from the American Cancer Society for a series on breast cancer.
The Filipino American Library, SIPA, and various other notable Filipino American groups have also honored Denise for her commitment to community involvement.
Follow Denise on social media:
Facebook.com/abc7denise
Twitter.com/abc7denise
Instagram.com/abc7denise
Register Today!
We have a limited number of spots available for both events. This event will sell out.
Course Map, Parking & Directions
The 5K is a single loop and the 10K is a double loop around the UCLA Campus.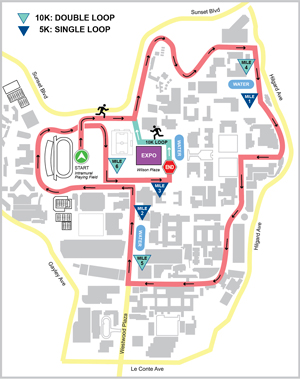 Location
U.C.L.A.
Westwood, CA 90095
Parking
Event day parking will be available in Lots Structures 4 and 8. Parking at UCLA is $12 per car. Parking attendants will be stationed at the gates to Structure 4 (just past the kiosk) and Structure 8, level 4 (top of the ramp). Attendants will accept cash only. Permits may also be purchased with cash or credit card from the Pay Stations at these locations.
Uber & Lyft
If you choose to come via a service such as Uber or Lyft, you must be dropped off at the UCLA Luskin Conference Center, located at 425 Westwood Plaza, Los Angeles, CA 90095. Proceed north onto campus and walk towards Wilson Plaza.
Driving Directions
Northbound (from the South Bay): Take Interstate 405 (San Diego Freeway) north, and exit at Wilshire East. Turn left on Westwood Blvd. and go straight past Le Conte Avenue (the street becomes Westwood Plaza). Continue north past Charles E. Young Drive South. The Structure 8 entrance will be on the left at the next light. Proceed to the rooftop level for parking.
Southbound (from the Valley): Take Interstate 405 (San Diego Freeway) south, and exit at Sunset Boulevard. Turn left at the end of the off-ramp and turn east (left) onto Sunset. Turn south (right) onto Westwood Plaza, and proceed down to the Structure 4 entrance.
Volunteer, Sponsor & Exhibitor Parking
Information will be emailed in advance of the event.