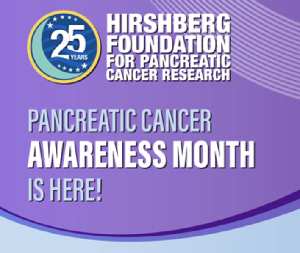 Strive to Survive ~ 11/11
Welcome to Strive to Survive 11/11!!
We are striving towards a cure for pancreatic cancer. Please support us in our fundraising efforts.
Why 11? We want to shine a light on the fact that the current survival rate for pancreatic cancer is just 11%. We are headed in the right direction, but that 11% needs to be way higher.
It started with my Dad, Maurice Weiss, my biggest fan, who lost his battle to pancreatic cancer, just 35 days after diagnosis and ran 52 marathons in 52 weeks. I dedicated my mission to him and now to Lupe Romero De-La Cruz, my dear soul sister. She survived pancreatic cancer 3 times, a 12 x marathon runner and so much more, she created "Strive to Survive." As Lupe says, "Inhale life to the fullest, the good with the bad, do not allow fear or anxiety to paralyze you Keep moving forward!" Lo Tenemos!
We are stronger together and we can improve the pancreatic cancer survival rate to 100%. All donations go directly to the Hirshberg Foundation for Pancreatic Cancer Research!
The Hirshberg Foundation for Pancreatic Cancer Research, established in 1997, is a national, nonprofit organization dedicated to advancing pancreatic cancer research, and providing information, resources, and support to pancreatic cancer patients and their families. They have the best medical researchers and physicians working to fight this terrible disease, but need our HELP to put an end to this disease.
There will be 11 races and all of us can participate in some way. Anybody can run them, walk them, run/walk, roll and donate to our cause. Whatever your pace is, it doesn't matter, as long as we are moving together torwards that cure. That's what's important!
The races are as follows, or you can even run your own:
JOIN ME!
1.OC Marathon, Half Marathon and 5K marathon May 1
2.Mountains 2 Beach Marathon June 5th
3.The San Francisco Marathon July 24
4. Santa Monica Classic Sept 11th
5.LA Cancer Challenge Oct 28th
6.Malibu 5K November 5th
7. Honolulu 10K Dec 11th
8.Rosebowl Half January 15th
9. Surf City Half February 5
10.LA BIG 5K March 18th
11.Los Angeles Marathon March 19th
We Got This!!
View More

Team Honor Roll
Elite Robotic Surgical Consultants
$1,000
Malibu Half Marathon & 5K
$330