Marathon 110- Let's do it again!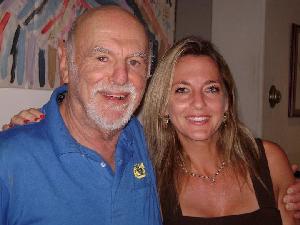 On March 2, 2008, I ran my first marathon, the Los Angeles Marathon. Less than 3 years later my father was diagnosed with stage 4 pancreatic cancer and sadly passed 35 days after diagnosis. Now I run with a purpose, to fight the good fight against pancreatic cancer. In 2013 I set out to run 52 marathons in 52 weeks and I'm so grateful to have completed that amazing journey, but we are not done yet!
Fighting pancreatic cancer has become my mission, and I will not stop until we have found a cure for the disease that took the life of my number 1 fan, my father, and so many others.
On November 7, 2021 I will be running in the LA Marathon as a part of the Hirshberg Foundation for Pancreatic Research's Training Team. This will be my 110th marathon benefiting pancreatic cancer research!
The statistics are grim, but with your help we have a chance to improve them. Pancreatic cancer is the #3 cancer killer in the United States amongst both men and women. Nine out of ten pancreatic cancer patients will die. The average life expectancy after being diagnosed with pancreatic cancer is just 3-6 months. I would greatly appreciate your kind consideration by making a donation towards this goal. Make a donation today!
Please help us find a cure and it would be really cool if we could reach my 1 Million Dollar goal. We're almost there! We got this!
-Julie, Marathon Goddess
View More
Achievements

Fundraising Champ
I'm a fundraising champ!
Fundraising Honor Roll
in honor of Julie's dad Maurice
$30

HTT Alum
I've run with the Hirshberg Training Team before

I ran the Los Angeles Marathon!
I ran Los Angeles for pancreatic cancer!

Marathon Runner
I'm running the full marathon
If you think this page contains objectionable content, please inform the system administrator.