Fundraise
Participant Center Earn Prizes Fundraising Tips Social Media Pledge Form Corporate Matching Gifts Sponsor a Walker
Participant Center

We encourage you to log in to your Participant Center and take advantage of its many great features. It's so easy to use and will likely be your most effective fundraising tool.

Click here to access your Participant Center
Getting Started
Step One: Click on Log In. If you are not already logged in, fill in your username and password and click log in. If you are logged in, click on LA Cancer Challenge to access your participant center.
Step Two: Get Started!
Here are a few ways that you can utilize your Participant Center to raise more:
Set Up Your Personal and Team Page. To do this, click on the Personal Page or Team Page Tab and start to edit. You can upload one photo or insert the link to one YouTube video that will be displayed on your page.
Create a friendly personal page URL.
At the top of the Personal or Team Page tab, you will find your url. If you click on "URL Settings" you will be able to create a friendly URL.
Upload contacts and send e-mails. Click on the email tab. Here you are able to select an e-mail template to get you started, personalize your email, add contacts and send away!
View your progress and update your goal. By clicking on the progress tab, you can view how much you have raised, update your fundraising goal and enter offline gifts that you have received.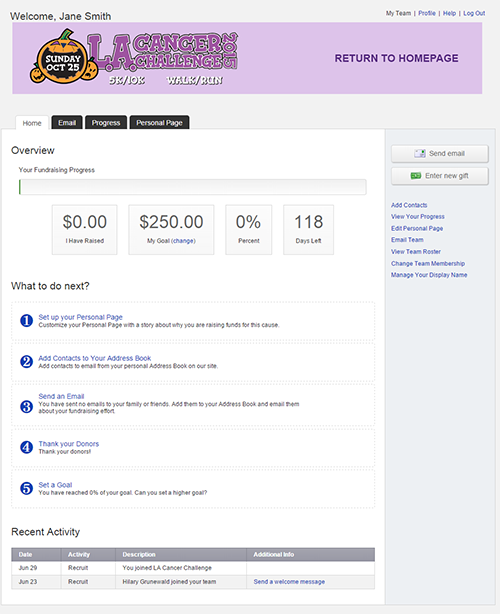 Earn Prizes

One Grand Prize is awarded to the top overall fundraiser based on all pledges collected and received by the Hirshberg Foundation by October 28, 2016. All other prizes are awarded to each registered participant who raises the appropriate funds by October 28, 2016. Prize levels are cumulative. All prizes are handed out on event day in the Expo.
PRIZE LEVELS
COMING SOON
Fundraising Tips
Tell YOUR Story!
The most effective way to fundraise is to tell others about your story. Why are you fundraising? How has pancreatic cancer affected your life? Why should people make a contribution to you instead of going to see a movie?
The number one way to share your story is through email. While not everyone checks Facebook every 3 hours, most people check their email pretty regularly. What makes a personalized email so successful is how easy it is to send to lots of people at once.
Tips for a Great Email
Make it personal. Share your story, tell them why you are involved and convince them to be as well.
Keep it short and sweet.
Give them the facts (about Pancreatic Cancer and the Hirshberg Foundation). People are more likely to donate to something they understand. We all know the pancreatic cancer facts speak for themselves, let people hear what we are fighting.
Pancreatic cancer is one of the deadliest of all cancers
There is no early diagnosis and no cure
Pancreatic cancer survival rates are dismally low
Life expectancy after a pancreatic cancer diagnosis is incredibly short
There are only a handful of drugs currently used to treat pancreatic cancer
The Hirshberg Foundation, founded in 1997 is devoted to finding a cure for pancreatic cancer
The mission of the Hirshberg Foundation is to find a cure for this disease
Ask! It is more important than you think. What separates this email from others is that you are asking them to act. Don't just tell them what you are doing; ask them for their help (by joining your team, sponsoring you, etc). Be specific with ways they can contribute.
Keep track. Emails sent through your Fundraising Headquarters can be easily tracked. This way you will get to see who has or has not donated.
Be prepared to send a reminder. A lot people will get your email and plan on helping, but then forget about it or lose the email. The best way to send a gentle reminder is to give updates. Tell them how things are going and how far you have come, but how much more you can do with their help. Reminder emails can often be more successful than original emails.
Send out thank-yous. It is really nice to receive a note that says that your donation was important. Let them know all you accomplished and that you appreciated their support. A good thank-you card brightens anyone's day, and makes your donors more willing to give again in the future!
Social Media
The Power of Social Media
Confused about how you can use social media to fundraise and increase awareness for pancreatic cancer? If you follow these instructions, you'll be well on your way to HELPing the Hirshberg Foundation, the LA Cancer Challenge, and supporting pancreatic cancer research.
Find us online!
Facebook:
Facebook.com/LACancerChallenge
Twitter:
@LACancerRun
Instagram:
@LACancerRun
#run4cure, #run2endpc, #LittleFeetBigStrides, #KidsCanCure, #LACC2016
1. Get connected! Become friends with Elissa Oblath, Team Captain Coordinator for LACC help 24/7. Be sure to find us on Facebook for all the latest details and exclusive offers www.facebook.com/LACancerChallenge. And if you're a team captain, sign up for our Team Captain Group where you can meet others and share your story.
2. Add to our Virtual Memory Wall! We know the emotional highlight of the LA Cancer Challenge is our Tribute Video and we've found a way to share all those photos the other 364 days of the year. Submit photos of a loved one you have lost to pancreatic cancer with a few words about them and why you participate in the LACC. We want to highlight your story. Email your photos and story to elissa@pancreatic.org. http://blog.lacancerchallenge.com
3. Spread the word! Let people know how hard you are training (or not), fundraising and recruiting for your team. When they learn that you have convinced 20 friends to wear Smurfs costumes, your dedication to pancreatic cancer research will shine, and asking them to donate will be a piece of cake!
a. Be sure to post your training accomplishments as you complete them.
b. Mention the LA Cancer Challenge in your posts and be sure to hashtag it with #run4cure, #run2endpc #LACC2016
c. Talk it up. The more you post about your experience, the better. Share your favorite: costume ideas, running spots, training music, Halloween songs, pumpkin flavored treats, Halloween candy, team spirit ideas, post-run cool downs, etc.
Pledge Form
What do you do with the checks and cash you receive?
Once you've registered online, you can then use your Participant Center to enter the checks and cash you received during your fundraising activities.
To enter offline checks and cash donations in your participant center:
Login to your Participant Center.
In the right column, click "Enter new gift."
Enter the details for a gift that someone gave you.
Click add or save and add another.
Prior to October 15, you can mail checks (do not mail cash) to us at 2990 S. Sepulveda Blvd, Suite 300C, Los Angeles, CA 90064. You can also turn in checks or cash on Race Day at the Info Tent.
Corporate Matching Gifts

One of the smartest ways to give is through a matching gift program, where a company, or individual, will match donations to charitable organizations. These matches are often dollar for dollar, which doubles your charitable donation power!
Check with your company's human resources or payroll department to see whether it offers a matching gift program.
As for donation guidelines and a list of eligible charities if your company does offer a matching gift program (also ask if charities can be added and what is needed for that process).
Watch for matching opportunities through community or internet fund-raising efforts if your company doesn't offer a matching gift program.
Decide how much you want to donate to your organization.
Donate through the matching gift program, filling out the appropriate forms to ensure that the match is donated.
Note: When filling out the matching gift information, please use The Hirshberg Foundation for Pancreatic Cancer Research and our tax ID number 95-4640311